Pain Caused by Guillain-Barre Syndrome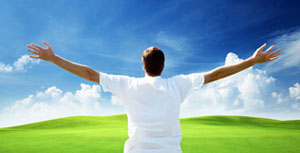 Paul, 28 years old, has been diagnosed 8 months prior with Guillain-Barre syndrome, before we started craniosacral therapy. Guillain-Barre syndrome (GBS) is an acute, autoimmune, polyradiculoneuropathy affecting the peripheral nervous system, usually triggered by an acute infectious process. At the time we started treatment, he was still being treated in the rehab unit at Scripps hospital. After each of our treatments, which was a combination of craniosacral, relaxation and deep tissue, Paul and his family noticed that he had more energy. His body was realigned, which helped with the exruciating pain Paul sometimes went through. For several months, he underwent our treatment weekly, sometimes twice a week. After only 4 months, we reduced his treatments to twice a month since he was doing so much better.
Chronic Headache, Chronic Shoulder Pain, Problems with Sinuses
Randy, a 60-year-old male came to us with several chronic complaints. Daily headaches, sinus problems, and chronic shoulder pain were making his life challenging. He had tried traditional massage to alleviate the problems with only limited results. As soon as we started with craniosacral treatments, the daily headaches disappeared and according to Randy, the pressure in his head started releasing. His sinus problems and his chronic shoulder pain, which he had for years, disappeared completely. We are pleased to hear that our craniosacral therapy worked for you, Randy!
Randy is a classical example: Sometimes people like the magic touch of massage. In my therapy, it is about the individual and what the person would like. I introduced Randy to craniosacral therapy since I have worked on thousands of people before and I knew that the healing effects of craniosacral therapy are much more effective on Randy than massage.
Depression and Stress
Antonia, 15 years old, needed help because of depression and stress in school. After only one treatment or craniosacral therapy, her priorities shifted and she started having a better focus and making positive changes with her friends. In some cases, it only takes one session of craniosacral therapy. There is no magic involved, the body gets realigned during the craniosacral therapy and sometimes that's all the body needs. In some cases, people start crying and memories come up from a tragic event like an accident. These are feelings that will be released through treatment, but shortly after the person will feel the healing "aaaaaahhhhhhhhh...... I feel good......" feeling.
Severe Shoulder Pain and Insomnia
Susan, a 70 year old woman had been through so much in her fullfilled life: twice cancer herself, loosing one of her children, several car accidents. Even though she smiled a lot, you could tell how much pain she had in her upper shoulders. In addition, she complained about the fact that she barely had a good night sleep on any given day. Susan also had a problem with people touching her and after refusing any bodywork for a whole year, she allowed me to treat her with craniosacral therapy. After three craniosacral therapy sessions, her sleep pattern changed and she started to sleep through the night. As a beneficial side effect, her hotflashes also started to be less severe. Within a short time in craniosacral therapy, her shoulder pain went from level 10 to 1. After successful treatment, Susan now comes once a month for a visit to stay tuned up. Congratulations, Susan.
Our Patients' Feedback About Their Craniosacral Therapy Experience
"My chiropractor recommeded a craniosacral therapist since my adjustments weren't holding very long. I was also diagnosed with a right axilla lymph node congestion. Since receiving craniosacral therapy and lymph drainage treatments from Barbara DeVito my chiropractic adjustments are holding longer, the lymph congestion is resolving, I'm more relaxed, and my immune system is stronger. My mom, husband and son are also greatly benefiting from her craniosacral sessions. She is a phenomenal practitioner with healing hands, that focus on problem areas and overall relaxation!" L.S.
"I recently went to see Barbara for a tense neck and headaches and as always she took great care of me. The tension eased quickly and just being in Barbara's presence and enjoying her nurturing way of giving me all her attention felt so wonderful. My headache was gone and I felt refreshed and immensly relaxed. Thank you Barbara for yet another wonderful session. I am looking forward to my next appointment." Frauke
"I was treated the first time as a gift and ended up coming back regularly. Barbara's cranial sacral massages are absolutely amazing and have helped my anxiety immensly. I leave her with a huge weight lifted off my shoulders, she has a way with releasing anxiety that is indescribable." Ellen
"Barbara plays an important role in the integration of body, mind and spirit so necessary for the healing process. With her sensitivity, big Heart, and gentle touch, she skillfully reminds the body/mind what it's like to feel relaxed and pain free. Barbara's the best friend a body could have!" S. Lorenz
"Barbara, your healing ways are so unique and powerful. The healing energy that you share with me is beyond words. I am blessed to have you in my life. Your selfless commitment to my health is award winning and allows me to pursue my dreams." Willy A.
"I discovered the healing brought by cranio-sacral therapy over ten years ago when Lance, a craniosacral therapist, was calming my sciatic nerve so that I could walk again: a side benefit was that my high blood pressure vanished and is low normal TO THIS DAY. But he moved to Thailand. After regular and varied massage therapies for constant pain no longer helped, I prayed for another cranio-sacral practitioner and found Barbara DeVito. Her voice is like music and we are making good progress with a variety of disabling conditions, so I am blessed to have made the connection." C. Poli
"Dear Barbara, Thank you so much for the cranialsacral treatment yesterday! I haven't felt so good in a long time! You have the magic touch! The treatment was so relaxing and enjoyable, I think I actually felt the pulsation of my blood. It's amazing that so little pressure can have such a big effect. The tension in my back and neck feels a lot better today. Thank you!" Constanze Taylor
"Barbara, Wanted to let you know how much better I feel. I had a good night's sleep all because of you. I didn't wake up with pain in the middle of the night!! I so appreciate what you do and your caring & loving concern. You are awesome. Love, Marlene"
"Barbara has done so much to help my headaches! After seeing her for a few months now, the headaches that I used to have daily have completely ended. She is very calming and thorough with her explanation of what she is doing. She listens to my concerns and addresses whatever area may be bothering me. I have been very happy with her treatments and will continue to see her weekly! Thank you Barbara!" Lauren
"I normally wouldn't spend the time to write something, but I wanted to share my experience with the world. I had a lymph drainage session with Barbara this week and loved it. She had such calm hands and really took her time with me. She explained everything so well to me before and during the procedure that I felt that this was the right place for me to be. She is from Germany, where this kind of treatment is more popular than here. You can tell that she really enjoyes her work and is happy when she makes a difference. I can absolutely recommend her for lymph drainage." A.P.
"DEAR BARBARA DEVITO: I WANTED TO WRITE THIS LETTER TO YOU WITHOUT IT SOUNDING LIKE ANOTHER "I WAS SKEPTICAL BUT' LETTER. BUT I GUESS THERE IS JUST NO OTHER WAY TO SAY IT. WHEN I HAD BEEN RECEIVING MASSAGE TREATMENT FROM YOU, YOU HAD STARTED CRANIO SACRAL CLASSES AND YOU WERE SO VERY EXCITED ABOUT YOUR NEW FOUND KNOWLEDGE. YOU JUST COULD NOT WAIT TO GET STARTED WITH TREATMENTS ON ME. WELL I MUST ADMIT WHEN WE STARTED THE TREATMENTS THEY WERE SO GENTLE, THAT I HONESTLY THOUGHT TO MYSELF THAT YOU HAD GONE OFF THE DEEP END. THEN YOU DID THAT THING WHERE YOU PULLED MY EARS, I THOUGHT 'OH BOY, SHE'S REALLY GOOFY' WELL I MUST ADMIT ALL THOSE THINGS YOU DID, WORKED, BUT I JUST CAN'T BELIEVE HOW GENTLE THE TREATMENT WAS. THE SHIFTING OF THE BONES IN MY HEAD AND NECK RELIEVED THE PRESSURE IN MY HEAD ENOUGH TO MAKE A DIFFERENCE IN THE CAUSE OF MY HEADACHES. THAT PULLING OF MY EARS ALONG WITH THE GENTLE MASSAGING OF MY FACE HELPED DRAIN MY SINUSES. ENOUGH TO RELIEVE MY MORNING COUGH WERE IT WENT AWAY ALL TOGETHER. I WOULD WAKE EVERY MORNING HAVING TO COUGH UP THIS THICK PHLEGM. IT WOULD TAKE AT LEAST THIRTY TO FORTY FIVE MINUTES TO GET RID OF ALL THAT ACCUMULATION OF PHLEGM IN MY THROAT THAT DRAINED DOWN FROM MY SINUSES WHILE I SLEPT THE PREVIOUS NIGHT. CRANIO SACRAL THERAPY EVEN MADE AN IMPACT ON THAT CHRONIC PAIN I HAD IN MY RIGHT SHOULDER. I DON'T KNOW HOW IT WORKS ALL I KNOW IS THAT IT WORKS.HERE'S FURTHER PROOF, NOW THAT I NO LONGER ATTEND OUR ROUTINE SESSIONS SOME OF THE SYMPTOMS HAVE RETURNED. ALTHOUGH I MUST ADMIT NOT TO THE EXTENT THAT THEY WERE BEFORE WE STARTED BUT I THINK A MAINTENANCE VISIT OF AT LEAST ONCE A MONTH WOULD BE A GOOD THING TO DO. MY SINUSES DON'T SEEM TO BOTHER ME EXCEPT DURING DAYS WHEN POLLEN IS VERY PREVALENT. SOME OF THE PRESSURE IN MY HEAD HAS RETURNED BUT I TRULY BELIEVE THAT A MONTHLY MAINTENANCE PROGRAM WOULD KEEP THAT IN CHECK. THE EXERCISES THAT YOU TAUGHT ME SEEM TO KEEP THE CHRONIC SHOULDER PAIN IN CHECK EXCEPT WHEN I EXERT TOO MUCH PRESSURE ON IT OR DO SOMETHING TO AGGRAVATE IT FOR TOO LONG. WELL BARBARA, I JUST THOUGHT YOU'D LIKE TO KNOW THIS INFORMATION, HOPEFULLY, I'LL BE ABLE TO GET BACK TO SEEING YOU IN THE NEAR FUTURE. I KNOW CRANIO SACRAL WORKED FOR ME AND I'M SURE IT WOULD WORK ON JUST ABOUT ANYONE WHO WOULD TAKE THE TIME TO ALLOW IT TO WORK FOR THEM. IT MAY TAKE A FEW SESSIONS LIKE IT DID FOR ME BUT THE RESULTS IS AMAZING. TAKE CARE UNTIL WE SEE ONE ANOTHER AGAIN WARM WISHES AND AS WE SAY IN HAWAII ...ALOHA..." RANDY MARTIN
"After a treatment with Barbara Devito, I felt more grounded and positive. With a condition that affects the walking, having better balance and less back pain was wonderful. The therapy was performed with respect to the person and she listens and asks for your preference to enhance the time spent together. I felt like I was in caring and healing hands." Noreen Quillin
"Barbara has a unique talent for massage therapy. She can be subtle or provide deep tissue massage, whichever you like. Her training in cranial sacral therapy is very valuable. She listens to her customer's needs and requests (i.e. would you like to talk or have quiet time while I massage you?). Her massages are both enjoyable and healing for me. I heartily recommend her as a talented massage therapist." Patrick Quillin, PhD,RD,CNS